It's the most wonderful time of the year, or so the song says. People are wrapping gifts for their loved ones that they are soon to see. Often, it is the only time during the year when we see those relatives who live a goodly distance away. Cookies have been baked and decorated in order to show off our baking skills. I do appreciate the beauty of those iced, sprinkled and dusted cookies that look just like the cookies in the magazines that are at every supermarket checkout. I never really saw the point of elaborate decorating, but then I am all about shovelling the cookies down my throat just as fast as possible.
There is some last minute shopping going on and we do need to pick up just a few more things at the market to round out the Christmas dinner. Okay, Holiday dinner if that is your preference. I don't really care, just so long as I get my share of the cookies. Like I said, there are last minute things to do, but for the most part we are waiting in anticipation for that generous man in red to visit our homes on Christmas Eve. I will keep the thermostat turned up so that Santa will be able to warm up a little while he is here. No sense taking the chance he might take offence in any way, after all, I have gone to the trouble to be good all year. Well, good…ish.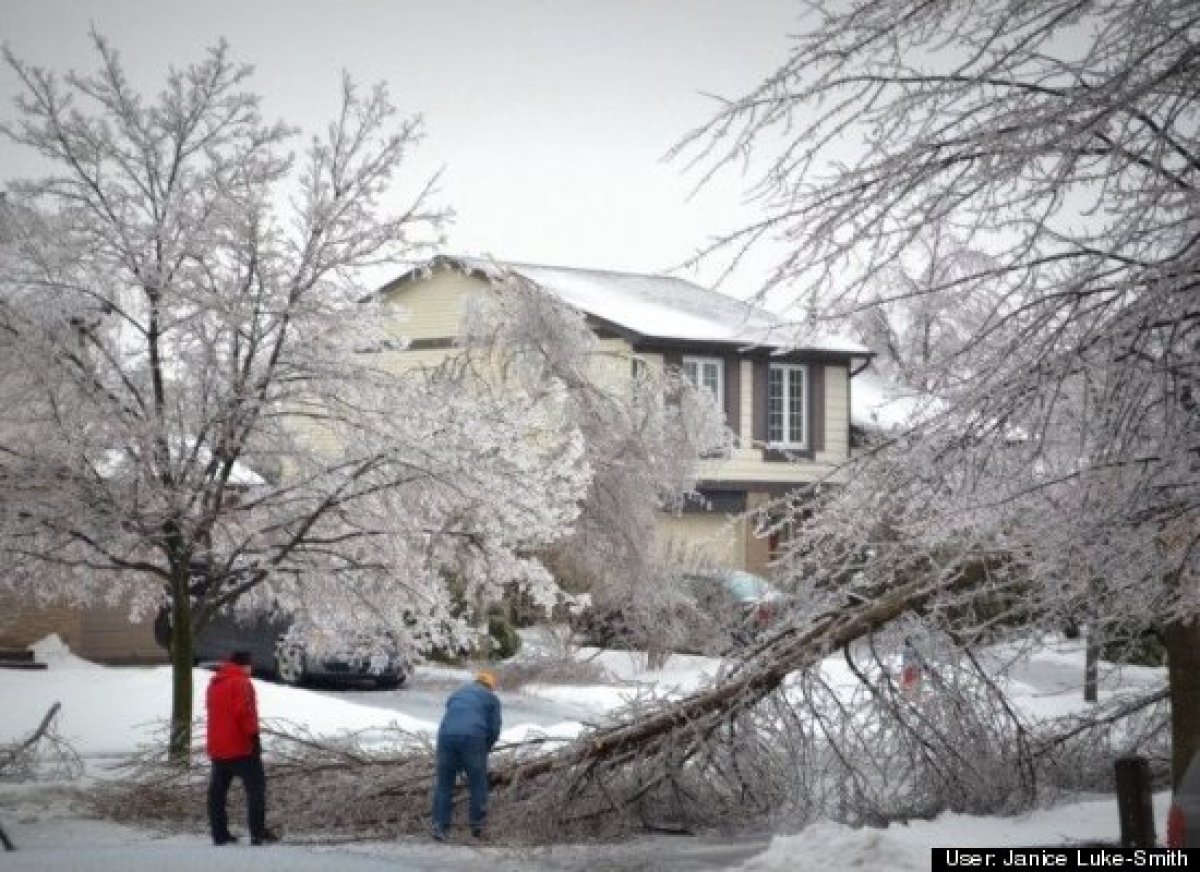 I woke today to find that a good portion of eastern Canada and the central US are having a horrible winter storm. My friends and family in southern Ontario are in the midst of an ice storm that has made the roads skating rinks. The trees are covered with a heavy accumulation of ice and consequently the branches are breaking off and as they drop to earth, they break the hydro lines. That has put upwards of 300,000 households without power or heat. I don't like it when the temperature in the house drops below 18°, and the possibility of my pipes freezing would freak me out.
I guess that Ontario Hydro is working overtime to get the power restored to as many as possible, but some will be without power for up to 72 hours. It is certainly survivable, but most of us have never had to survive winter without central heating or any way to cook food. I have often thought that I should get a wood stove for the house, solar panels for electricity and of course a store of dried food and water to get us through a couple of weeks without any power. Of course I didn't mean dried water; dried water would be a container of air. I haven't done any of those things, because they cost money and I am inherently lazy. I will look into some kind of emergency planning right after the holidays.
This storm will keep many families that planned to be together for Christmas, apart. The roads are impassable and only fools would willingly go out if they did not absolutely have to. Flights have been cancelled or delayed and more people will be spending the holidays in strange airports, trying to get comfortable while they wait.
With the power out, Christmas dinner might be peanut butter and crackers. Hopefully they will have some of those fancy cookies for desert. Everyone out east should keep their spirits up because Santa is an old school kind of guy. He was delivering presents long before electric lights, central heating and the Wright brothers. Let's not forget that he has Rudolph for times like these.
I hope that all is back to normal sooner rather than later. God bless and may He protect you all from Mother Nature.